Enough with the roses already.
1   INSTEAD OF CHOCOLATES, GET THEM HEART-SHAPED CHEESE (OR WHATEVER FOOD THEY TRULY LOVE.)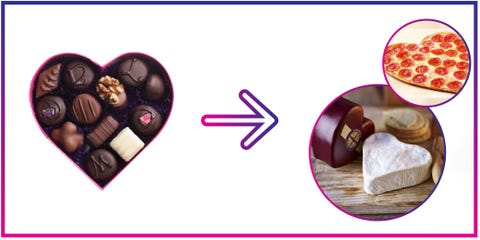 No offense to chocolates, but the really good-quality stuff will cost you an arm and a leg for, like, six truffles, and drugstore fare will leave you with a pile of mediocre candy you won't finish. Plus, it's completely expected. Heart-shaped cheddar and brie though — not as cheesy. Another option: order a heart-shaped pizza, or fill a heart-shaped box with their deepest snack vice.
Heart to Heart Cheese Set, Godminster, $21.22; Heart-Shaped Pizza, Papa John's, $15-$18.
2   INSTEAD OF A CARD, COMMISSION A SPECIAL DRAWING.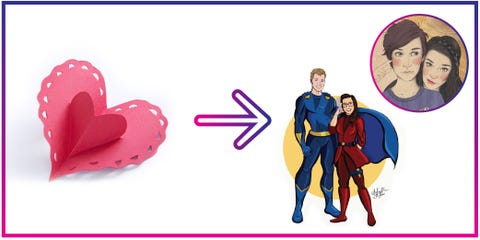 Grabbing the first Hallmark card you see and struggling to make your handwriting somewhat legible can feel a little lazy, despite the good intent. What takes a little more effort but will certainly earn a place of honor in their home is a commissioned drawing of your partner (or you as a couple, or whatever they like.) You can do anything: you as Disney characters, you Photoshopped seamlessly into Chrissy Teigen and John Legend's lives — there are literally no boundaries here.
Superhero art, @sydneyhughesart, prices vary; Portrait, @aferova_, prices vary.
3   INSTEAD OF FLOWERS, GET THEM FLOUR AND BAKE TOGETHER.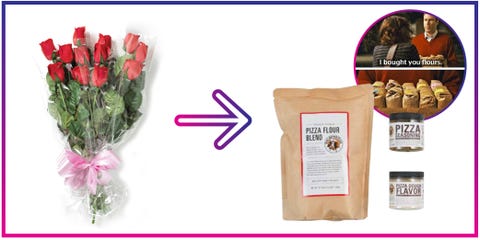 Ditch the dozen roses for something you'd much rather have chilling in your home: a multi-tier cake that you baked all night together. Because if you're going to get an impermanent gift, it pretty much should always be food.
Pizza Flour Blend Pack, King Arthur Flour, $21.85; Stranger Than Fiction, Columbia Pictures, $7.99.
4   INSTEAD OF A FANCY DINNER, DO A FOOD TOUR.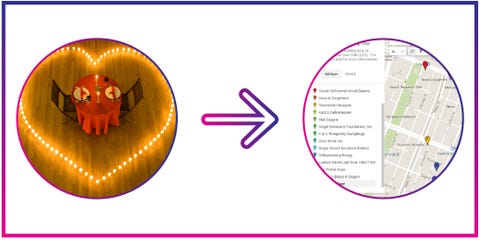 Fancy restaurants where the waiter stops by to ask how you're doing every 0.2 seconds and the food portions all qualify as pre-snack snacks can feel a bit constricting. Consider instead: a self-guided food tour, where you can get a bite of all your favorite things while having much-desired alone time. You can snag cocktails at a bar where you can't afford more than one, get $1 slices at your favorite divey spot, and end with dessert from five different bakeries because decisions are hard.
Food Tour Map, Free Tours By Foot (or make your own), free but prices vary depending on where you go, duh.
5   INSTEAD OF JEWELRY YOU *THINK* THEY'LL LIKE, BUY FUNCTIONAL ACCESSORIES THAT AT LEAST SERVE A PURPOSE.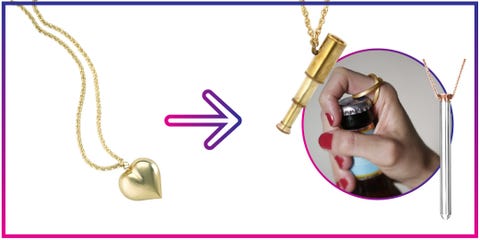 Jewelry is objectively really, really hard to shop for, and you *know* that no matter how many hints you drop, your partner will end up getting you a rhinestone-drenched cat ear headband. And you might get them a watch that they'd never wear because smartphones exist. But if anyone's going to go this risky route anyway, you may as well get something that can still be used, like a bottle-opening ring or a telescope necklace or a pendant that doubles as a powerful vibrator. Wanting practical gifts isn't a gendered, man-only thing: No person will hate on a gift that even marginally improves their lives (for real, get the vibrator necklace.)
Bottle Opening Ring, Adorn Milk, $42; Working Telescope Necklace, Shoptiques, $18. Vesper Vibrator Necklace, Crave, $69.
6    INSTEAD OF A HOTEL ROOM CLOSE TO YOU, TRAVEL TO A NEARBY TOWN YOU'VE NEVER BEEN TO.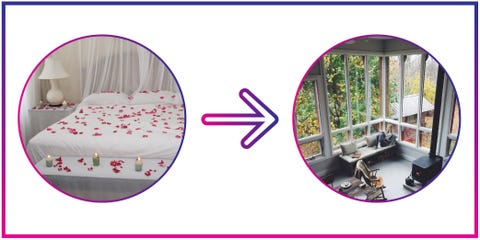 Shelling out $$$ for a night at the nicest hotel in your area adds a lot of pressure for everything to be P E R F E C T, sex included (because everyone knows nothing is less stressful than sex with through-the-roof expectations, right?) With services like Airbnb though, you can find an affordable (and far more unique-looking) place to stay in a neighboring town where you can at least go on a scenic hike or to a local brewery, and get a little more bang for your buck. (Also literal bang, because you'll be doing something new together and more into each other than ever.)
Catskill Airbnb, Airbnb, prices vary.
7    INSTEAD OF WEARING LINGERIE, TRY SOME ROLE-PLAY.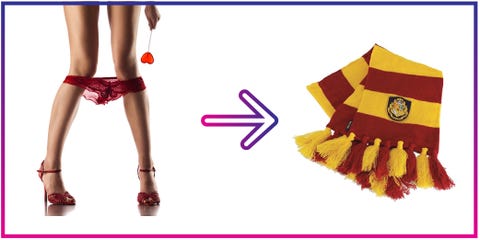 Not to say that lingerie can't be included in the mix here too, but going to dinner with a lace thong wedgie and worrying about your sheer bra giving your nipples a little too much freedom is a surefire way to not enjoy any of it. Something that can feel a little more intimate though: Talk to each other about a fantasy you each want to try. Then, put on a Hogwarts scarf or a doctor's coat or Britney Spears's entire outfit from "Toxic," and once you get home, have a night that will definitely stand out.
Hogwarts Knit Scarf, Amazon, $24.11.
8    INSTEAD OF A BLURRY COUPLE SELFIE, MAKE A DIY CAMERA HEART FILTER.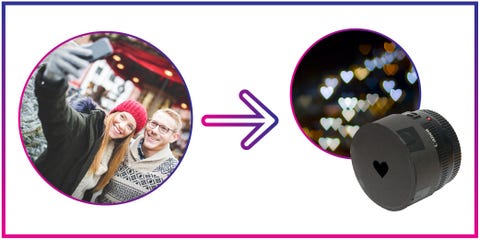 Your Instagram feed will be filled with couples' pics quickly snapped by waiters who are probably (and rightfully) over it. For a slightly more intimate twist, you can make a Bokeh lens filter by making a little heart stencil out of construction paper and taping it to your camera. Your 'gram will absolutely rise above the sea of cheek kisses and oversaturated roses.
DIY Bokeh lens, DIY Photography, free if you have paper and a camera!
9    INSTEAD OF A TEDDY BEAR, GET BOOZE-FLAVORED GUMMY BEARS.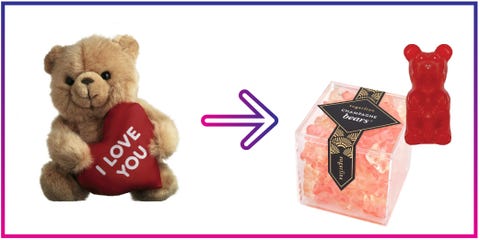 Stuffed animals are at the top of Valentine's Day clichés. They have the unique ability to feel both juvenile and generic, like your partner doesn't really know you. Staying true to the theme of "food is the best gift," get your partner a box of Champagne-flavored gummies or one of those jumbo-size gummy bears. Or, if the mood strikes, make your own booze-infused gummy bears in preparation for the big day. Any of these options will be put to good use/will not end up in a lonely corner of the bed out of sheer guilt.
Champagne Gummy Bears, Sugarfina, $20; World's Largest Gummy Bear, Target, $34.95.
10    INSTEAD OF RED WINE, MAKE SOME APHRODISIAC COCKTAILS.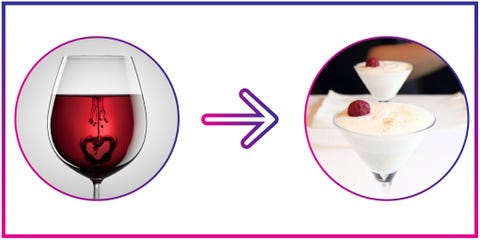 You can have red wine any day, and honestly, it'll probably make you a little too drowsy by the time you make it to the bedroom. Whether aphrodisiacs work or not isn't the point here: it's that you can make gorgeous, potent cocktails that will feel keep you delightfully buzzed all night. Or you can literally just spike some hot chocolate and live your best lives.
Aphrodisiac Cocktails, Cosmopolitan, prices vary.
11   INSTEAD OF DINNER BEFORE SEX, HAVE SEX BEFORE DINNER.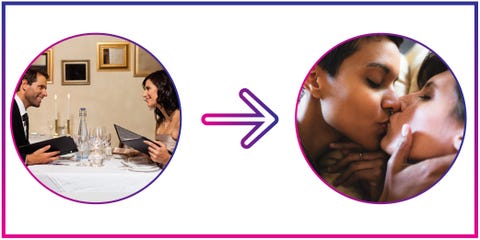 Dan Savage said it best: "a big heavy romantic meal with wine and crème brulée and everything else … and who wants to fuck after that?" Get your bone on before the T-bone steak dinner, and if you feel like having seconds, you always can ;).
12    INSTEAD OF PROPOSING, PICK LITERALLY ANY OTHER DAY.