After 30 hours spent researching artificial Christmas trees and seeing dozens in person, we think National Tree Company's 7½-foot Feel-Real Downswept Douglas Fir with dual-color LEDs is the best for most people. It's realistic, competitively priced, versatile, and quite attractive.
Last Updated: November 23, 2016
Our pick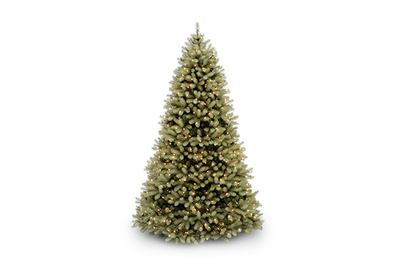 The LED-lit Downswept Douglas Fir (PEDD1-312LD-75X) has nearly 2,000 authentic-looking polyethylene branch tips surrounding a lightweight PVC core, a design similar to what you find in the highest-quality artificial trees available today. Its 750 LED bulbs fill its branches nicely, and—unique among the trees we looked at—the lights can switch from all-white to multicolor. At 7½ feet high and almost 5 feet across (59 inches to be exact), the tree is generously proportioned; it'll fill the corner of almost any living room. It's widely available, and at around $350 usually, it's competitively priced against trees of a similar size and quality.
If you want to pay less and don't mind stringing your own lights, National Tree Company's 7-foot, unlit Feel-Real Downswept Douglas Fir (PEDD1-503-70) is a great tree at a great price. It's nearly as tall and wide as our pick (7 versus 7½ feet; 55 inches versus 59 inches), and a generous 1,539 branch tips give it that same full, room-filling form. It's identical in construction, with the same realistic polyethylene branch tips and PVC core. Simply losing the lights (figure 100 bulbs per foot of tree) saves you more money than you might expect: This model is usually under $200. (Note: This model also comes in 7½ feet, with the same tip-count as our main pick; it's another good deal if the 7-foot model is sold out.)
Why you should trust us
For this guide, we gave ourselves a crash course in artificial-Christmas-tree knowledge. Sweethome editor Tim Heffernan visited one fake-tree manufacturer's New Jersey headquarters, shopped for trees at several big-box stores, and spent hours examining trees at House of Holiday—New York City's largest holiday shop—where owner Larry Gurino "love[s] to geek out over artificial trees." Gurino's deep knowledge greatly added to this guide, as did the time we spent shopping and researching the hundreds of options online. Sweethome research editor Courtney Schley spent hours speaking with the American Christmas Tree Association, which represents artificial-tree makers, to understand the industry itself, including manufacturing processes, sales and design trends, and statistics.
How we picked (and how to shop for your own)
Here's the basic fact: You can find hundreds of great artifical trees these days. They come in dozens of "species" (assorted firs, spruces, redwoods, and pines); multiple heights and girths; multiple levels of realism (and many colors never seen in nature); versions that are bare-branched or "frosted" or "flocked" with fake snow; and prelit and unlit variants with LED or incandescent options.
For this guide, we defaulted to the most popular choices in our quest to come up with a tree that would please the most people. Our interview with the sales manager at National Tree Company yielded a few key facts about trends in the industry. The 7½-foot range is the most popular size, as US home ceilings are usually 8 feet high. Buyers hugely prefer prelit trees, as well; to cover everyone's tastes, we decided to look for a tree that could switch between all-white and multicolor. Buyers also want artificial trees to appear convincingly lifelike. And although first-time tree buyers will probably be surprised at a good tree's price, we knew we'd be in the mainstream range as long as we came in between $250 and $400, judging by the information we got from House of Holiday's Larry Gurino, National Tree, and our own research. (An artificial tree can easily last 10 or 15 years, so the amortized cost is a lot easier to swallow.)
Cost and realism go hand in hand. Using molds often taken from actual branches, artificial-tree manufacturers shape polyethylene (PE) to produce highly realistic branch tips. More tips generally make the tree look fuller, with fewer gaps, and more tips cost more money. Our pick, for reference, has 1,867 tips, and you can get trees with far fewer or far more than that. This particularly lovely "Nordic spruce" from National Tree, for example, has almost 5,000 tips—and a price to match that extravagance. As with real trees, overall bigger sizes come with bigger costs: House of Holiday, for example, carries more than two dozen trees measuring 12 feet or taller with price tags north of $1,000.
Prelit trees make up 90 percent of the artificial trees sold in the US.
More than a decade ago, the only material used in trees was polyvinyl chloride (PVC). Now, on good trees, PVC appears only as the obviously fake filler branches near the tree's trunk. PVC is cheaper to produce than PE branch tips, and it's also a lot lighter, so the mixed materials help to balance beauty, cost, and weight. All the trees we considered for this guide consisted of realistic PE branch tips around a lighter, cheaper PVC core. Even though all-PVC trees are still widely available, we don't recommend them. From a distance they look like trees, but up close they look terrible. On the plus side, however, they are cheap: A 6-foot tree shouldn't cost more than $100. Also, what was once a genuine health concern—the use of lead as a PVC stabilizer—is no longer an issue in most artificial trees sold in the US, according to National Tree Company and the American Christmas Tree Association, which represents artificial-tree companies.
Prelit trees make up 90 percent of the artificial trees sold in the US, according to the American Christmas Tree Association; incandescent bulbs still dominate, but LEDs are rapidly making inroads. LED bulbs cost a bit more up front but should last longer than incandescents, in both lifespan and durability terms. However, modern incandescents are more reliable than those of the past, and one burned-out bulb no longer necessarily causes the whole string to go dark. On prelit trees, you want roughly 100 bulbs (or more) per foot of tree height; less than that looks a bit sparse. Finally, you shouldn't pay extra for the fancy flashing patterns that are increasingly common, unless you know you'll use them. As Larry Gurino of House of Holiday confided to us, "Most people don't use them—they just want to see them [advertised] on the box."
Virtually all contemporary artificial trees have branches permanently mounted on hinges on the center pole. This design means that they all unfurl into place quickly when you set up the tree; in the past, you often had to snap individual branches into sockets on the center pole one by one, a time-consuming and fussy process. For this guide, we sought trees with permanently mounted, hinged branches—not that there's much choice on that anymore.
If our pick isn't your cup of tea, the good news is, you generally get what you pay for in artificial trees, and you can rely on a few key specs when shopping. The price directly relates to the number of branch tips, the height, and the girth—an often-overlooked factor that Gurino emphasized in our interview—and all those details contribute to the tree's general level of realism. Virtually all trees come out of a handful of factories in China and Taiwan to be branded and sold here, with the same tree sometimes renamed. National Tree Company representatives told us on a visit to its New Jersey headquarters that the tree sold as the "Bucks County Fir" in Pennsylvania may be called something totally different in Connecticut. You may very well find another brand selling a different version of the Downswept Douglas Fir, disguised by some superficial finishing touches that could suit your style better. If one of the brands we recommend has something you like, and the specs and price seem in line with our reporting, you've probably found your perfect tree.
Our pick
National Tree Company's 7½-foot Feel-Real Downswept Douglas Fir with dual-color LEDs (PEDD1-312LD-75X) is our pick among artificial Christmas trees. It's very full and highly realistic, and its 59-inch girth will nicely fill the corner of most living rooms. It's widely available, too: If you'd like to see it in person, Home Depot, Sears, Walmart, and many holiday stores typically carry it. This model also has a feature rare among the trees we considered: The lights can switch from multicolor to all-white (actually more of a soft "golden" white).
With 1,867 polyethylene (PE) branch tips, this Downswept Douglas Fir model is thickly covered and shows no gaps. For comparison, National Tree's other species with dual-color LEDs have as few as 630 tips and as many 2,696, so the Downswept Douglas Fir is fuller than average. Compared with other brands, this tree, often available for just under $350, is priced competitively with models offering similar quality and similar height, girth, and tip-count specs. Note, however, that the price of the Downswept Douglas Fir varies considerably between retailers, as we've seen it listed for as low as $280 and as high as $365. It may ease the sting to remember that you're making at least a 10-year investment.
The Downswept Douglas Fir's lights give off the intense colors characteristic of LEDs. With 750 bulbs on a 7½-foot tree, it exactly meets our 100-bulbs-per-foot recommendation. The all-white setting has a rich golden tone; the multicolor setting is bright and pure. To people used to the softer glow of incandescent bulbs, the effect may appear a little harsh. If you'd prefer the same tree prestrung with all-white or multicolor incandescents, you can usually find one for the same price or less, but you'll get only three or four seasons of light life, whereas LEDs may run for a decade or more with normal use. (A string of 300 white or multicolor incandescents runs about $10 at Home Depot currently; you would need three strings, or about $30 worth, to meet the "at least 100 lights per foot of tree" guideline for our 7½-foot tree pick.)
A feature that's available only with LEDs is the ability to toggle between all-white and multicolor light—again, a feature offered on our pick, and one you rarely see on competitors' trees. We think this versatility is a big selling point for a tree you'll have around for several seasons, and possibly multiple settings and occasions. For example, you could use all-white for a more sophisticated look during a grown-up holiday party and use the multicolor mode when the mood is more festive. Or you could just do something different from year to year so that it doesn't seem like the same tree every Christmas. This feature is one of the main things that set this tree apart from several otherwise similar options.
In a design common to modern artificial trees, the Downswept Douglas Fir's branches are all permanently mounted on hinges on the center pole (older artificial trees required you to attach branches individually via sockets), and like most trees its height, it comes in three sections. As you set the tree up and the branches fold out, you need to fluff them: Just pull the individual tips apart into spreading clusters, adjust the arrangement of branches to close any gaps, and generally prettify the tree. House of Holiday's Larry Gurino strongly recommends fluffing as you go—do the bottom section first, then put the middle section in place and fluff it, and finally top and fluff. This technique makes the job much easier than trying to fluff the whole thing at once. We followed his advice when setting up our Downswept Douglas Fir for our photo shoot, and we had the whole thing put together and looking great in under 15 minutes.
A great tree for less
National Tree Company's 7-foot, unlit Feel-Real Downswept Douglas Fir(PEDD1-503-70) is a great tree at a great price. It's nearly as tall and as wide (55 inches versus 59 inches) as our main pick, and it has a generous 1,539 branch tips, sporting that same full, room-filling form. It's identical in construction, too, with the same realistic polyethylene tips, hinged branches, and three sections. You'll have to string the lights yourself, of course. If you already own enough lights for a 7-foot tree (roughly 700 bulbs, per the 100-per-foot guideline), choosing this tree is a no-brainer, since you'll save roughly $100. If you simply prefer to string your own, even if it means spending down those savings, go for it—check out our recommended set of LED Christmas lights, or pick up three 300-bulb strings of incandescents for about $30.
The competition
Aside from appreciating the quality, beauty, and value of our pick, we chose a National Tree model for a few other reasons, namely exceptionally wide availability (online, in national chain stores, and in mom-and-pop shops), diverse options (in lighting, height, girth, and other considerations) to fit everyone's unique needs, consistently great reviews, and the solidity of 50-plus years of a family-run business.
But the fact is, more than one company can claim most of those qualities, and you can find great trees available under numerous brand names.
Much of the situation is due to the way artificial trees are manufactured: Almost all of them come out of a handful of factories in Taiwan and China. So while the companies selling the trees specify the details of their designs, the companies making the trees use similar materials and even many of the same basic components. That means you will be able to find a great artificial tree, even if it's not our pick.
Puleo is Larry Gurino's brand at House of Holiday; like National Tree, it's a New Jersey–based, family-run business. Puleo is not as widely available as some other brands, but its quality ranks among the best; Gurino has sold Puleo trees for 20 years. If you find one you like, you can be confident in your purchase.
Balsam Hill is the top-selling artificial-tree brand in the US, and it offers an extraordinary array of top-quality trees in three ranges of realism. After viewing and handling examples in person, we consider its Realistic line comparable to National Tree's Feel-Real series. Both have a mix of realistic PE branch tips and plasticky PVC filler branches. And both do a great job of fooling the eye. An exact apples-to-apples comparison isn't always possible (due to differences in lighting options, for example), but Balsam Hill's trees tend to come at a premium. The prelit 7½-foot version of its Black Spruce, which is specced similarly to our pick, has a suggested price of $800 and is currently on sale for $550—about $200 more than our pick. To get a similarly specced Balsam Hill tree at a price close to our pick, you're limited to the company's Traditional line, which is made entirely of PVC.
Frontgate mostly competes with Balsam Hill in the premium category, as it sells super-realistic and super-expensive trees. We didn't encounter Frontgate trees in person, but even the company's PVC-only 7½-foot Hampton Fir comes in at about $100 more than our pick.
Home Accents Holiday is another solid brand. Its trees are not as widely available as National Tree's, being exclusive to Home Depot, but even so most people can easily get some hands-on time with them—though not every store will carry every model and size. In person, the look and feel of comparable models was similar to that of our pick, with the usual mix of PE and PVC branches to provide realism and fullness; the prices we saw were comparable, too. As with Puleo, if you find one you like, you can be confident in your purchase.
On fake trees, real trees, and harming the environment
Between artificial and live trees, which is greener? You might not be surprised to learn that within the industry there's no consensus answer—the American Christmas Tree Association and the National Christmas Tree Association, which represent the artificial-tree and live-tree industries, respectively, both claim the "greener" title.
But the definitive study on the subject (as reported by The New York Times, parent company of The Wirecutter and The Sweethome) gives the edge firmly to live trees. Artificial trees are made of petroleum-based plastics and are manufactured mostly in China, where environmental laws are less stringent. Live trees can be sustainably farmed and harvested, they absorb carbon while growing, and they provide some measure of wildlife habitat. Although live-tree farms contribute marginally to the consequences of fertilizer and pesticide use, they add value to land that might otherwise be valuable only to developers. But really, the study's author says, your fake-versus-real-tree choice is not a major way to make a difference for the Earth: "If you exchange a couple of days of commuting by car with carpooling or riding a bicycle, you'll completely overcompensate for whatever the impact of the [artificial] tree is…. It's not such a big deal. Enjoy your tree, whichever one you prefer."
The facts on lead in PVC tree parts
Lead serves as a stabilizer in some forms of PVC. The one serious study (PDF) we've seen on artificial Christmas trees, published in 2004 in the Journal of Environmental Health, found that the lead levels and risk of lead exposure were generally very low, and well below federal guidelines at the time; a few models were outliers, however, and one slightly exceeded the federal limits. Lead exposure occurred in two ways: direct contact with the branches—as may occur when people are setting the trees up and decorating them—and contact with PVC dust beneath the tree, the result of physical decomposition of the "pine needles, " a particular concern for crawling infants. Significantly, new trees (new in 2004, that is) generally showed much lower levels of lead than trees manufactured in the 1980s and 1990s. The authors concluded that while the proportion of trees made with lead-stabilized PVC had "decreased only modestly" in the 20 years preceding 2004, "the amount of lead stabilizer used has been reduced to a much larger extent," suggesting a long-term trend toward low-lead or lead-free artificial trees.
We raised our concerns with the American Christmas Tree Association, which stated in response that leaded PVC is no longer used at all in its members' products. We also asked National Tree Company about its products specifically, and representatives confirmed that the company uses entirely lead-free PVC. We have no reason to doubt those claims, but since no federal standards or tests for artificial-tree materials exist, we have no independent data to confirm or contradict them, either. In general, it seems wise to wash your hands after setting up and decorating your artificial tree, as well as to prevent kids and pets from playing underneath it or (obviously) chewing on the branches. But the risk of lead exposure from a contemporary artificial Christmas tree is likely minimal to nonexistent.
A final concern: Storage
People buy trees with the holidays in mind but often overlook the fact that they'll need to store an artificial tree for 10 or 11 months out of the year. Lack of storage space is the main reason, said our Queens-based expert Larry Gurino, that city and apartment dwellers favor live trees. (He added that when live trees get thrown out, they often become free mulch for public parks.)
If you have room to store an artificial tree, bear in mind that, as Gurino noted, it won't easily go back into its original box: "Once you fluff it, it'll never fit exactly." Rather, keeping it covered and dry is the main thing. You can separate the sections and flatten the branches as best you can, or keep it whole; just don't store it somewhere it'll be trampled or moved a lot. Do cover it with a light plastic painter's tarp or an old sheet to keep the dust off, or buy a tree bag. And a climate-controlled space (converted basement, storage closet) is always preferable to an attic or garage.